Here are TWO free trade magazines that you should apply for -
the first is available for International distribution and the second
is only available for distribution within the USA:

License Global

is the only source for trends in merchandising
for consumer-based products.
License Global, the leading trade publication
for intellectual
property licensing and merchandising, provides
award-winning
editorial focusing on business deals, trends
and marketing
strategies on every category of consumer
products.

Geographic Eligibility: International
Click Here To Apply For A FREE Subscription to License Global Magazine
Next is a valuable publication that has provided us with
many great ideas for our web site over the past few years.
WebSite Magazine


is a FREE print publication offering practical advice and helpful
tools from industry experts to help any website owner achieve
Internet success.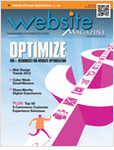 Until now, there has not been a magazine that caters
exclusively to the business of running a website.
Website Magazine has tapped premier talent in the Internet
industry for our content and each and every issue will
contain practical advice and insights for website owners.

Geographic Eligibility: USA Only and it is available to
New Subscribers Only and
TO QUALIFY FOR A FREE SUBSCRIPTION, YOU
(or your company) MUST HAVE AN ACTIVE WEB SITE.
Click Here To Apply For A FREE Subscription to WebSite Magazine